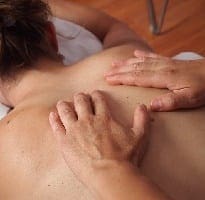 There's a conventional wisdom in massage therapy: "rub where it hurts." This is wrong.
There are many unanswered questions in the universe. How many decimal places are there in Pi? Is there a unified theory of physics? How does a shepherd count his flock without falling asleep? It's possible we'll never know. Some questions, however, can be answered. For example, if a therapeutic massage is meant to lengthen and […]
Do you see a massage therapist for your sore, tight-feeling shoulders? If you do, there is every possibility they are making you feel worse, not better.